Serena Williams talked about her friendship with Meghan Markle in a recent interview with the Australian news program "The Sunday Project," which aired over the weekend. 
"We were actually just texting each other this morning," the tennis superstar said after being asked if the two gave each other advice, considering the incredible media scrutiny they're under. 
"We have known each other for a long time, but we really, kind of, are relying on each other a lot recently," she added, laughing. 
Williams' comments are perhaps a hint at both her recent U.S. Open controversy and the Duchess of Sussex's never-ending drama with her half-sister, Samantha Grant, and father, Thomas Markle.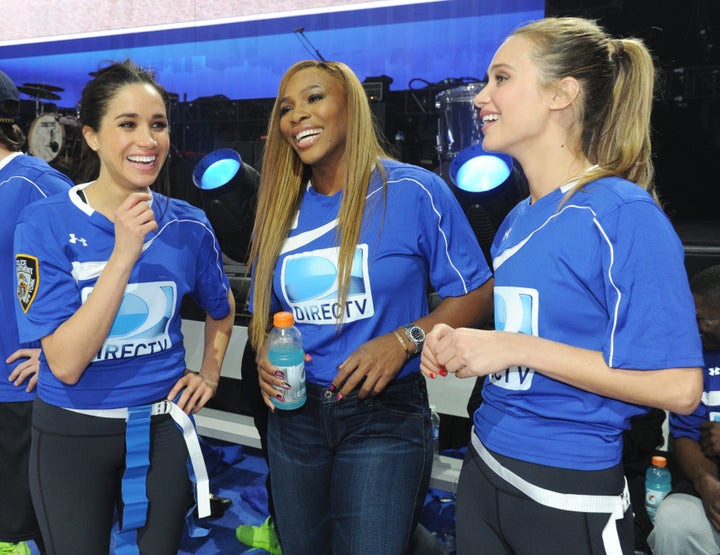 Media circus aside, the 36-year-old also spoke about what it was like to attend the royal wedding on May 19.
Interviewer Lisa Wilkinson pointed out that Williams said she was "excited by how much influence there was of the African-American culture" at the wedding. 
"To have such a monumental moment in England, nonetheless of all the places, I felt like we were literally watching history," Williams said. "And I feel like in a few years we are going to look back at that moment and it's going to be so historic that ― it's going to be something that people never forget." 
She added, "The whole service was really wonderful, and most of all I just wanted to see my friend be happy and I think that's what happened." 
Just last week, Williams wrote a public note of support for Meghan's new project ― a cookbook she collaborated on with a group of women who were affected by the disastrous Grenfell Tower fire in 2017. 
"I used to call you Meghan (and I still do) but dear Duchess of Sussex your first project "Together" [is] a cookbook bringing women of all cultures together," Williams wrote on Instagram. "I could not be more excited about it and proud of you." 
She added: "It's beautiful ― diversity, inclusivity, coming together in grief or joy ― there is just so much love." 
Tune in to the clip below to see more of Williams' interview with "The Project."