maintain their charge for the league trophy.
Neymar gave his thoughts on how he sees the title race going, as well as the influence of key Nou Camp figures including manager Luis Enrique, who will leave the club at the end of the season.
On MSN
We're friends, and we always want the best for each other. Together, we are making history, scoring many goals and we are winning many things. It is a lot of goals for three people. I'm happy about the goals, it is a very high tally.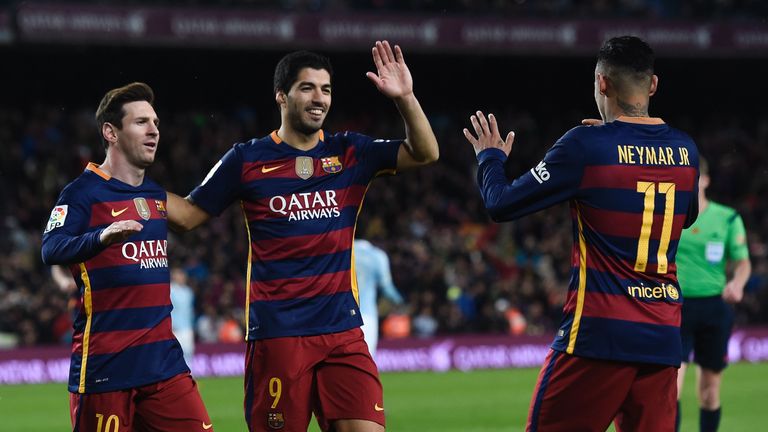 Each player has their own qualities and importance within the team and we have a great friendship that helps us on the pitch. I think it makes it easier to score goals and run for each other.
We want more. More goals, more trophies, more everything. These three are going to go down in the history of football!
On learning from Lionel Messi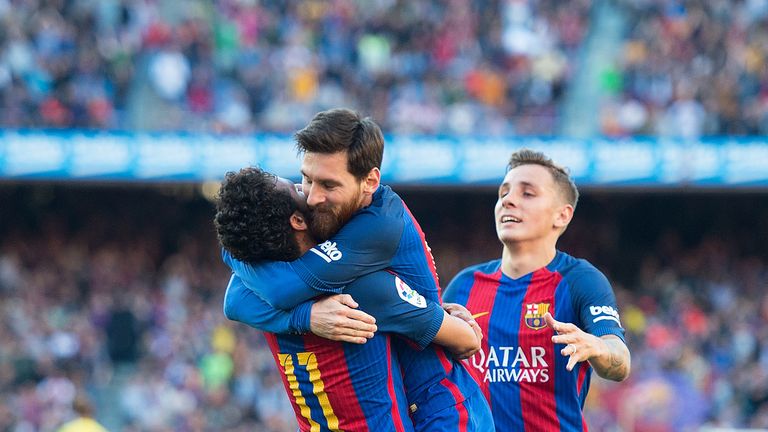 He is an idol in football, a friend I learn from every day and I wish him the best. He just has to keep doing what he does. He is different. He is not from this planet. He is Messi.
I've been here for almost four years and I've learnt a lot from him. I've learnt everything, how to shoot, how to attentive on the pitch and how to move the ball. I hope he renews his contract and I hope the people at Barcelona start working so Leo stays with us.
On staying at Barcelona
I want to be here and that's why I renewed my contract. I'm very happy with everything I have done here for the club, happy with my team-mates and I feel at home.
On Luis Enrique
It is sad. We've had the same manager for three years and we have been through a lot of good things together. The way he works, he always wants to win and he always wants good things to happen for the team. I think he is one of the greatest managers around.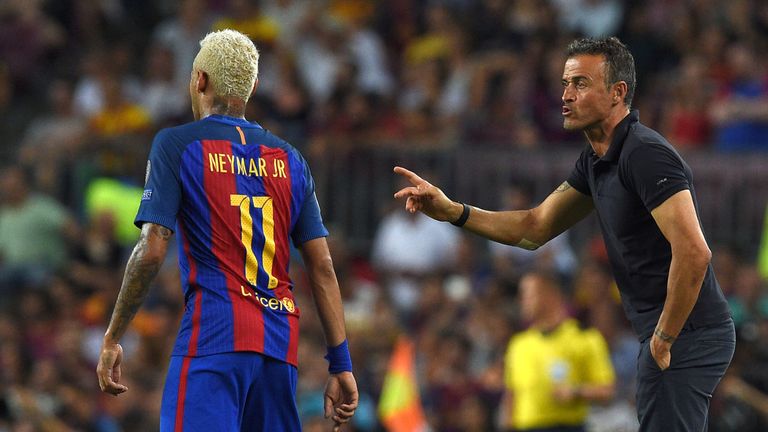 Of course we are going to miss him. I wish him all the best in his career and his life and I think him for all he has taught us, but now we must continue.
On the La Liga title race
I think we have got tough matches remaining and if we're not in top form, we won't win them. That's why we have to be focused and do our own thing to win. We can't be thinking about Real Madrid, only ourselves. If we do what we do, I think we can win La Liga.
On his first sending off
Neymar was sent off during a La Liga match against Malaga for two yellow cards in April. He received a three-game ban after sarcastically applauding the officials for their decision as he made his way off the pitch, adding two matches onto the one for his sending off.
I think the second yellow card was correct, but the first one wasn't. I don't agree with the first one. I think the second booking was a mistake by me because I went in strongly for the ball and I have no complaints about being sent off for that, but the first yellow has nothing to do with the game.
It has only harmed me and I've learnt from this.
On missing the last Clasico
Neymar missed April's El Clasico due to his suspension as Messi scored a late goal to give Barcelona a 3-2 victory.
I don't like to watch football at home on the TV but when my team-mates play, I always watch them when I'm not on the pitch. That happened with the Clasico. I really wanted to be there but I had to suffer at home until right at the end. When it ended, I called them up and we all started celebrating. Even though I was far away, I was there with them.