Canada's Liberal Party has decisively won a general election, ending nearly a decade of Conservative rule.
The centrist Liberals, led by Justin Trudeau, started the campaign in third place but in a stunning turnaround now command a majority.
Mr Trudeau, the 43-year-old son of late Prime Minister Pierre Trudeau, said Canadians had voted for real change.
Incumbent Conservative PM Stephen Harper accepted defeat and his party said he will step down as leader.
It was the longest campaign in Canada's history, and had been thought to be much closer.
Speaking after the polls closed, Mr Harper said he had already congratulated Mr Trudeau, saying the Conservatives would accept the results "without hesitation".
Addressing his jubilant supporters shortly afterwards, Mr Trudeau said that Canadians "sent a clear message tonight - it's time for a change".
"We beat fear with hope, we beat cynicism with hard work. Most of all we defeated the idea that Canadians should be satisfied with less.
"This is what positive politics can do," he said, also praising Mr Harper for his service to the country.
Few had predicted a Liberal victory on this scale. They look set to win 184 seats, a huge increase from only 36 that they held after suffering their worst-ever election result in 2011.
They become the first party ever to move from third place in parliament to a majority in one election.
Meanwhile, the left-leaning New Democratic Party (NDP) is on course to win 44 seats, less than half the number they held in the outgoing parliament.
"I congratulated Mr Trudeau on his exceptional achievement," said NDP leader Tom Mulcair.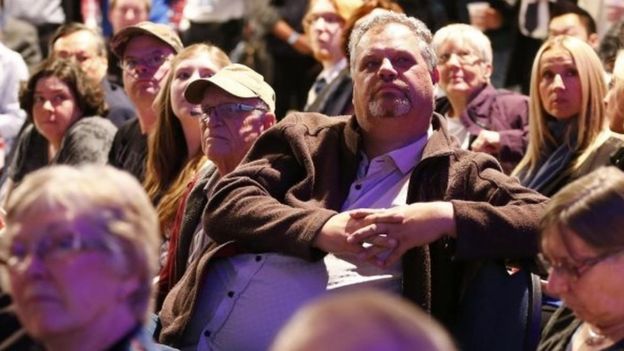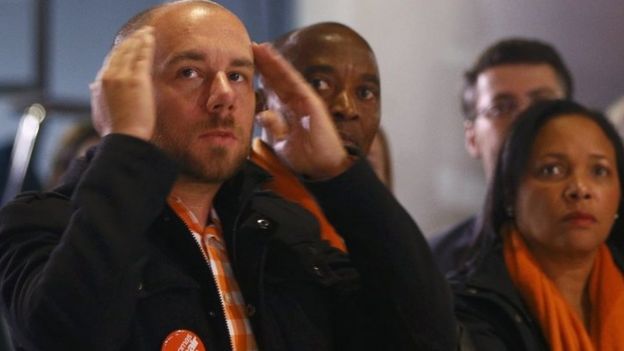 Early counts in the eastern provinces gave the Liberals their first taste of victory, as they led in all 32 races there.
As the results began pouring in, former Conservative Justice Minister Peter MacKay said: "A sea of change here. We are used to high tides in Atlantic Canada. This is not what we hoped for."
The Conservatives are now in danger of losing all 13 seats they held in Atlantic Canada in 2011.
---
Analysis: Anthony Zurcher, BBC News, Montreal
It was a night of superlatives for the Liberals in Canada. For only the second time in history, a party has gone from third place in parliament to first.
At Liberal Party headquarters in Montreal, the mood has gone from excitement to pure jubilation, as the crowd cheers win after improbable win.
"I'm so excited," said Karyn Decore, who flew in from Edmonton - another conservative Alberta city that could send a Liberal to parliament - for Monday night's party.
"I could feel in my heart that change was coming. This is history in the making."
The Liberals control more seats in Quebec than they've had in a generation, dealing a crushing blow to the formerly ascendant left-leaning New Democratic Party.
They won at least one race in the Conservative fortress of Calgary, hometown of Prime Minister Stephen Harper, for the first time since 1968.
Justin Trudeau campaigned as a candidate of change, and his party is poised to hand the incumbent Conservatives one of the worst defeats in their history.
---
Mr Trudeau campaigned on a promise of change, urging voters ahead of the polling day to "come together as a country".
Mr Trudeau's charismatic father, Pierre, is considered the father of modern Canada.
Mr Harper, 56, portrayed himself as the steady hand who could steer Canada's troubled economy back on track.
His campaign ran TV advertisements saying that Mr Trudeau was "just not ready" to take office.