U.S. Ambassador Mark Lippert was in stable condition after being slashed on the face and wrist by a man wielding a 10-inch knife and screaming that the rival Koreas should be unified, South Korean police and U.S. officials said Thursday.
Media images showed a stunned-looking Lippert staring at his blood-covered left hand and holding his right hand over a cut on the right side of his face, his pink tie splattered with blood.
The U.S. State Department condemned the attack, which happened at a performing arts center in downtown Seoul as the ambassador was preparing for a lecture about prospects for peace on the divided Korean Peninsula, and said Lippert's injuries weren't life threatening.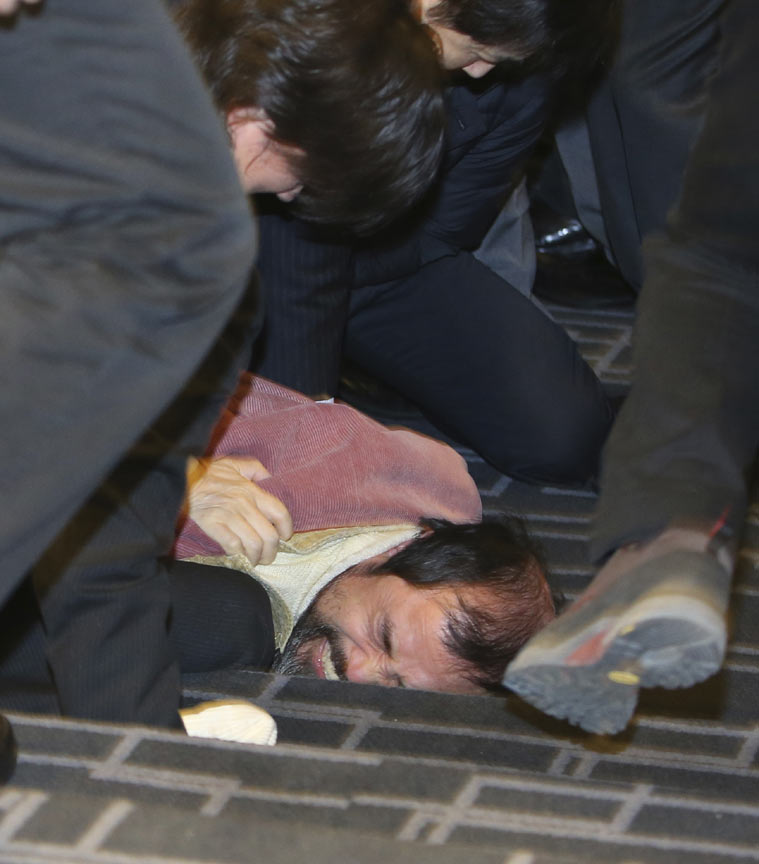 A suspect, bottom, identified by police as a 55-year-old, surnamed Kim, is overwhelmed by participants at a lecture hall in Seoul, South Korea, Thursday, March 5, 2015. 
The U.S. Embassy said Lippert was in stable condition after surgery at a Seoul hospital.
YTN TV reported that the suspect — identified by police as 55-year-old Kim Ki-jong — screamed during the attack, "South and North Korea should be reunified." The comments appear to reflect a bitter, lingering political division in South Korean society over the 1950-53 Korean War's legacy and the continuing split of the Korean Peninsula along the world's most heavily armed border.
A witness, Ahn Yang-ok, the head of the Korean Federation of Teachers' Associations, told YTN that Lippert had just been seated for breakfast ahead of the lecture organized by the Korean Council for Reconciliation and Cooperation when a man ran toward the ambassador from a nearby table. A separate, unidentified witness said that as Lippert stood up for a handshake, the suspect wrestled the ambassador to the ground and slashed him with a knife.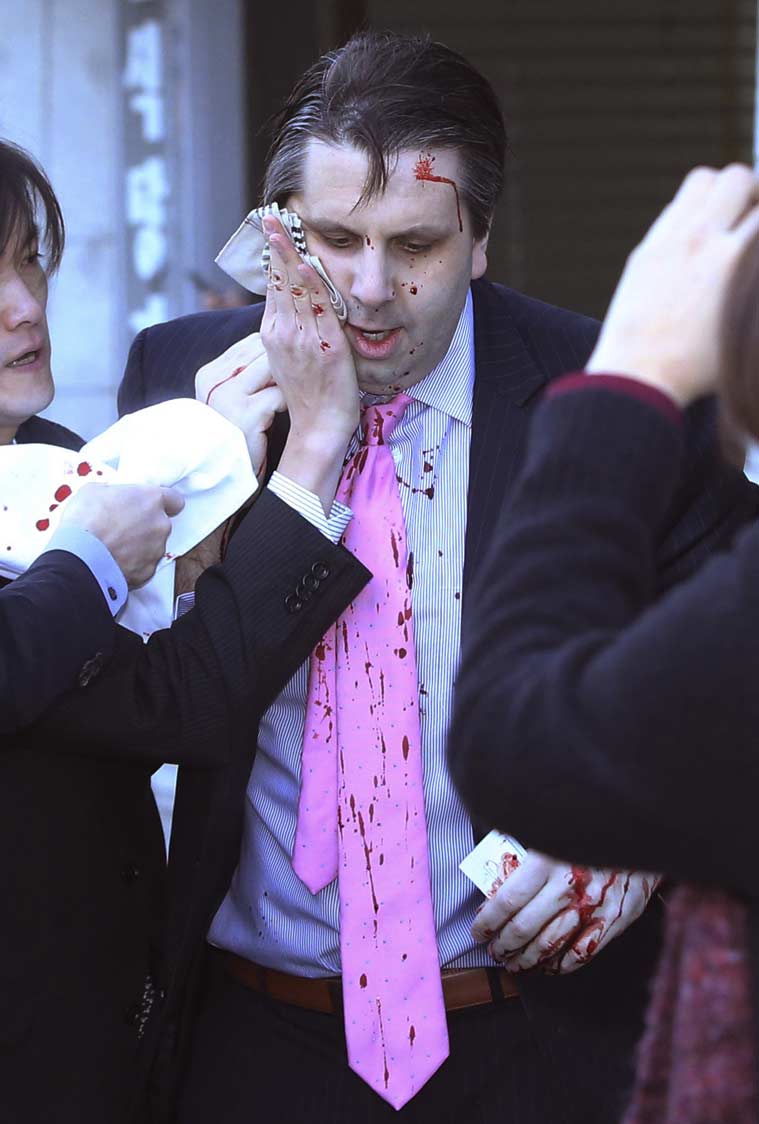 U.S. Ambassador to South Korea Mark Lippert leaves a lecture hall for a hospital in Seoul, South Korea, Thursday, March 5, 2015 after being attacked by a man. Lippert was slashed on the face and wrist by a man wielding a knife with a 10-inch blade and screaming that the rival Koreas should be unified, South Korean police said Thursday. (AP Photo/Yonhap, Kim Ju-Sung)